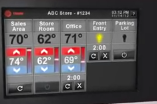 HVAC technology already exceeds by far the capacity once noted among heating and cooling product manufacturers. Yet it seems always that new improvements make their way into homes and businesses. Whether home or business, we all seek better equipment functionality, reliability and efficiency. With the introduction of the Tracer Concierge BAS (building automation system), Trane offers the world a selection of building automation software that is exceedingly more functional than a traditional thermostat management system.
Designed to enable centralized management over installed heating, cooling, ventilation, lighting, and air conditioning equipment, the Concierge™ HVAC system enables essential control over building comfort and lighting from a single simplified and affordable resource center. The system takes advantage of current touch-screen technology, and includes a display that shows the specs within individual buildings and individual regions within any of the given buildings. It's single-point management designed to enable group control over multiple rooms, HVAC equipment, components and area lighting. Thus… The Trance Tracer Concierge BAS system eliminates installation of multiple thermostat control systems.
The Tracer Concierge HVAC control system includes:
 A modifiable preloaded scheduler
Options for long term (365 day) programming
PIN control protection designed to prevent system override
Web-enabled diagnostic software
An installed Trane Air-Fi wireless operating system
AND More.
 More Facts About Trane Tracer Concierge
What It Does…
Designed – For simplified management of building lighting and HVAC control services
Crafted – To help reduce air conditioning and lighting operating expenses
Efficiency – The Concierge user interface focuses on simplicity, ease of use, and enabling better overall equipment performance.
Features…
 Tracer HVAC Controls – Offer bundled system that uses Trane components powered on a proven Tracer controls platform. Also enables automated multi-functionality and a simplified user interface.
Web-Enabled Access – Crafted for rapid web-based access enabling rapid diagnostic and troubleshooting services. Focus is on remote maintenance and reduced downtime.
User-Focused Control Interface – Simple is better. The Concierges comes with a 10-inch touch screen display. Available information includes graphic scheduling of all parts in single or multiple buildings.
Group Integrated Technology – By using technology crafted to enable integration with old, new, Trane HVAC and non-Trane HVAC control equipment, the Concierge functions equally well with existing building HVAC and lighting systems.
Trane Air-Fi wireless Communication – If it isn't wireless, it is not modern. The Trane Tracer Concierge enables quicker installation, self-repairing mesh technology, and twice the signal range of typically HVAC and lighting control solutions. The system also includes a maintenance-free battery solution and redundant communication signal paths.
Article Resource
Information provided by commercial HVAC services division of Arizona-based American Cooling and Heating – Servicing the heating, cooling and refrigeration needs of buildings and facilities throughout Phoenix Arizona and surrounding areas. ACH for all your residential and/or commercial air conditioning needs, including
Arizona Liebert CRAC Precision Cooling Units
Business Centers
Data Centers
Federal Organizations
Industrial Facilities
AND More.