Carrier Commercial HVAC Sales And Service In Arizona
American Cooling And Heating provides Carrier Commercial HVAC Sales and Service
Providing Carrier Commercial Air Conditioning Equipment and all types of Carrier A/C Systems, Commercial Air Conditioning Design Services, HVAC Replacements and Retrofits, A/C Repair Service, Temperature Controls, Start Up and Commissioning, Warranty Services, HVAC Maintenance Agreements, and many other HVAC Services in Arizona.
Carrier air conditioning equipment and systems with advanced technology,  HVAC Installation, A/C repair services, and planned systems maintenance for commercial customers throughout the greater Phoenix AZ Metro including Tempe, Chandler, Gilbert, Mesa, Scottsdale, Peoria, Glendale, and all surrounding cities, towns, and areas in Arizona. Our goal is to always provide quality services and to ensure the highest level of HVAC Installation workmanship as well as continued support throughout the life of your Carrier system.
Advanced Technology Carrier Air Conditioning Systems
When it comes to Heating and Air Conditioning, Carrier is a top leader in the industry. Carrier AC Systems are exceptionally designed to create a comfortable environment that is perfectly conditioned for your facility while providing reliable duty year after year. Carrier provides the most advanced combination of Heating and Air Conditioning products designed to fit multiple applications. American Cooling and Heating offers full support for all cutting-edge Carrier Commercial Air Conditioning and Heating products including Carrier Rooftop Package Units, Carrier Split A/C Systems, and more.
Carrier Commercial HVAC Products
Carrier A World Of Comfort – A Quick Reference Guide to Sustainable Building Solutions
Carrier WeatherMaker, WeatherMaster, And Centurion Light Commercial Rooftop Units provide the full range of light commercial packaged rooftop units that include heat pumps, gas/electric, and cooling only that include a variety of options designed to meet demanding HVAC applications.
Carrier WeatherMaker® Brochure – Commercial Packaged Rooftops – 3 Ton to 27.5 Ton
Carrier WeatherMaster® Brochure – High Efficiency Commercial Packaged Rooftop – 3 Ton to 25 Ton
Carrier Gemini Commercial Air Conditioning Split Systems that include 38AU condensing units and 40RU air handlers provide a variety of configurations. Both the 38AU single compressor model condensing units and the superior part load performance from the two compressor models provide lasting reliability and  energy efficient operation.
Carrier Gemini™ Brochure – 38AU 40RU Split System Air Conditioners and Heat Pumps – 6 Ton to 20 Ton
Carrier Gemini® Brochure – Commercial Condensing Units – 25 Ton to 130 Ton
Carrier WeatherExpert And Weather Series Large Commercial Rooftop Packaged Units with capacity of 75 to 150 tons, is design built to provide a cost effective solution for initial installation, ease of maintenance, and energy efficient operation, the new design makes it suitable for a wide range of applications.
Carrier Weather Series Brochure – Single-Packaged Rooftop Units – 20 Ton to 100 Ton
Carrier WeatherExpert™ Brochure – Single-Package Rooftop Units – 75 Ton to 150 Ton
Carrier Aero And Airovision Large Commercial Air Handlers, Aero® air-handling units take an innovative approach when it comes to air handling and provide advanced technology with custom features in a unique streamlined package, while Airovision commercial air handlers provide a custom configuration that is engineered and designed for each application.
Carrier Aero® Brochure – Air-Handling Units – 400 CFM to 60,500 CFM
Carrier Airovision Brochure – Air Handling Units – 39 HQ
Commercial HVAC Installation Services
American Cooling And Heating provides Commercial HVAC Retrofit, Replacement, and A/C Installation Services within the state of Arizona. Quality installation workmanship is key to the functionality and longevity of new equipment, we always install equipment by manufacturers specifications and to national and local codes and all of our installation workmanship is warranted for the life of your new unit or system.
Commercial HVAC Emergency Services
We strive to help keep your operations running smoothly with the least downtime for your facility. American Cooling and Heating services all brands of commercial heating and air conditioning systems, and provides 24-hour emergency service. Please call us anytime for immediate emergency HVAC service.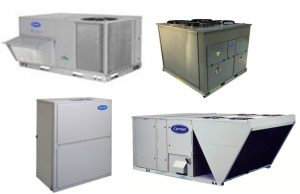 Servicing the entire Phoenix Metro including Tempe, Chandler, Gilbert, Mesa, Scottsdale, Peoria, Glendale, and all surrounding cities, towns, and areas throughout the State Of Arizona.